a tour of gardens
My mom and I have spent every Mother's Day for the past 20 years touring private gardens of Atlanta. We began even before I was in school to be a landscape architect. Now I have the pleasure of having my son along for the tour as well as my uncle who travels from New York each year.
The Garden's for Connoisseurs Tour is organized by and benefits the Atlanta Botanical Garden. Every year, approximately 10 private gardens are opened to ticket holders for 2 days.
This year had some gems as usual and we enjoyed getting a glimpse into some thoughtful design. IT WAS HOT though, topping 90 degrees both days. So any shade was welcome.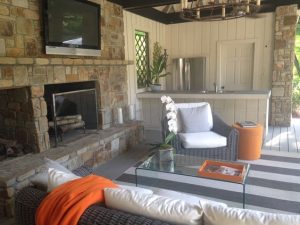 This was a memorable stop along the tour. A well appointed pool house with much appreciated fans. I especially liked the pops of orange and the clear lucite bar stools reminiscent of Louis Ghost Chairs.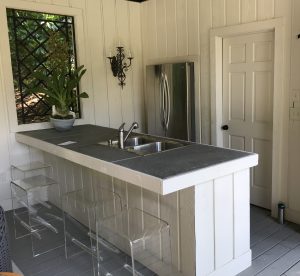 The entire landscape was planted in whites and greens and the details on the table in the pool house matched. I have a major crush on the quartz geode. The opening above had decorative iron work and no glass to allow the breezes to circulate.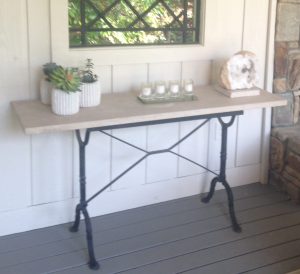 Another highlight was this shady pool with a brick deck. I typically don't love brick as pool deck because of the small size of the pattern. I feel it becomes busy at large scale such as around pools. This one surprised me. All of the green tucked in around and the shade from the mature Dawn Redwood made a restful spot.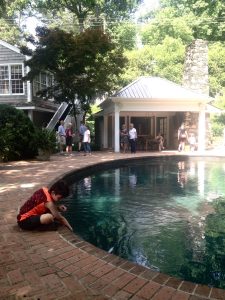 We will all be looking forward to next year and if you have never been I highly recommend it! I'd also love to hear your thoughts if you attended the tour.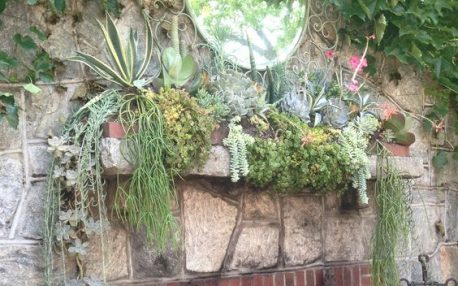 a Mother's Day tradition for 20 years running, my family looks forward to this tour all year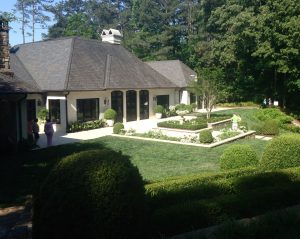 a scheme of greens and whites, formal and lush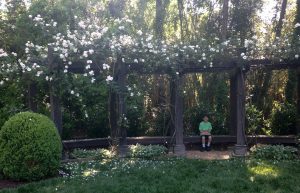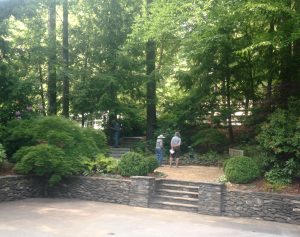 staggered steps from the driveway court lead to the road, overhanging cut-leaf Japanese Maple was a standout
SaveSave