Over Ninety Degree Days Have Me Longing for Autumn
Are you dreaming of the weather breaking too? Cool breeze blowing the falling leaves… Geese honking to each other as they pass overhead… Needing a sweater in the cool morning as the sun warms the ground… Seems like it will never come but that doesn't mean I can't wish!
If you would like some spectacular fall color in the yard, Fothergilla is a great plant to have! This hot weather is not ideal for planting but make plans to include some of this one in your winter planting plans. Here is more information from a post I made a few years ago on my Facebook page. https://www.facebook.com/Moll.Dunn/ (if you want to "like" it I will post notification there when I create new content here).
FOTHERGILLA – I know some people will inevitably know this plant but it is delightful and not overused. Pronounce it similar to father-gee-la. It doesn't have a more common name. As a shrub native to the southeastern United States, it is well adapted to the Atlanta area and doesn't require special pampering.
with four seasons of interest, this underused native plant will grab the attention of all who enjoy nature's beauty
Fothergilla has the amazing fall color that you see in the attached picture and great spring flowers too! The shrub has an attractive summer blue green leaf and keeps a neat appearance that fits right into almost all types of landscapes. Both the fall color and flower will be peak if the shrubs are sited in full sun but partial shade is acceptable.
The 'Mt. Airy' is a bigger cultivar topping out at 5-6′ and Fothergilla gardenii is a dwarf form that only gets 2-3′. They are deciduous (loosing leaves in winter) so they look great layered in groups with some evergreen choices.
Take a look at Fothergilla next time you are looking for tough but interesting plant.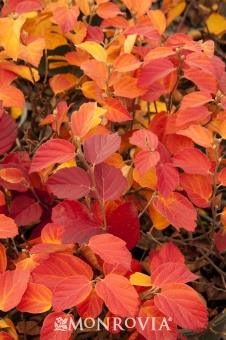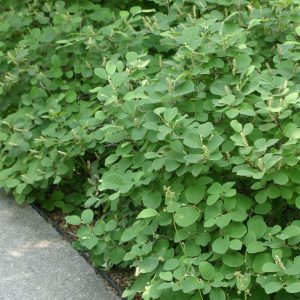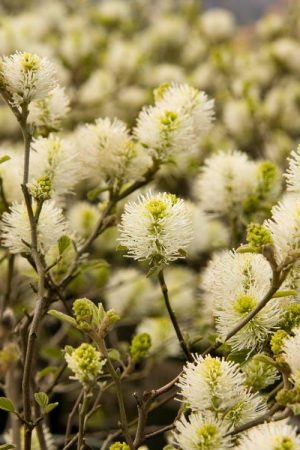 SaveSave